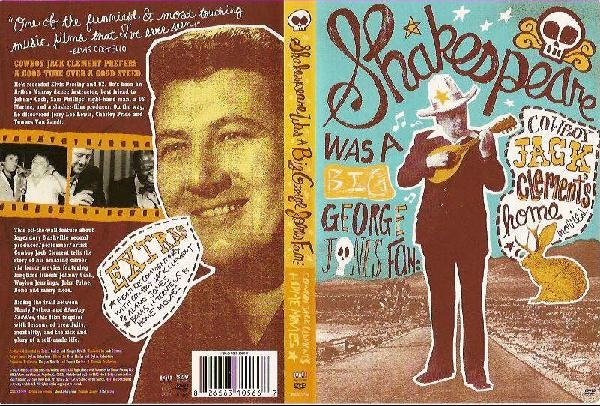 LEGENDARY COWBOY JACK CLEMENT NOW ON FILM!
DVD Shows 50+ year career as songwriter, artist, producer, musical visionary
NASHVILLE,TN ( October 16, 2007) -- Cowboy Jack Clement is one of music's most magical and successful figures!
During his fifty plus year career as a songwriter, artist, producer, publisher, label executive, movie producer and host of the moveable feast that is his home/office, The Cowboy Arms Hotel & Recording Spa, Clement has helped birth enduring music for a staggeringly diverse palette of artists, just a few examples being Johnny Cash, Louis Armstrong, U2, Dolly Parton, Jerry Lee Lewis, Charley Pride, Vic Damone, Townes Van Zandt, Waylon Jennings, John Prine and George Jones.
He discovered and mentored Nashville's most successful record producer, Allen Reynolds, who has crafted all of Garth Brooks albums in addition to co-producing Emmylou Harris' Grammy-winning At The Ryman and career-making hits for Crystal Gayle and Kathy Mattea. Reynolds' first production, Don Williams, Volume I & Volume II, launched that singer's solo career via Clement's own JMI Records.
Cowboy also built the first multi-track studio in Nashville, a facility now known as Sound Emporium and which is still a home for hit records under current owner, producer extraordinaire, Garth Fundis, discovered and brought to Nashville by. . . who else, Cowboy Jack.
Clement's latest CD, Guess Things Happen That Way, was released to ecstatic critical notices globally in 2005. Additionally, he's now in his third year as a show host for Sirius Satellite Radio.
Now Cowboy, Robert Gordon and Martin Neville have presented us with the first extended cinematic look at this mysterious, legendary music titan.
Sure hope you will enjoy Shakespeare Was A Big George Jones Fan -- Cowboy Jack Clement's Home Movies and that you'll spread the word about the film. I can guarantee that you will see Johnny Cash in an entirely different light after you view this hour-long film! Cowboy and he enjoyed a friendship which spanned fifty years, from their first meeting at Sun Records, where Clement was a staff producer-engineer, to Cash's death.
This is a wonderful look at one of music's most compelling men.
Review copies available. Please send request on letterhead via FAX to John Lomax III at (615) 356-4666
*******************************************************************************************************