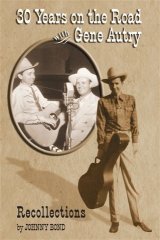 30 YEARS ON THE ROAD WITH GENE AUTRY - Recollections by Johnny Bond - Unveiled At the Country Music Hall of Fame® and Museum, November 2

"Johnny Bond's memoir superbly documents the behind-the-scenes nuts and bolts of the recording, performing, and touring life of a C&W musician from the 1940s-1970s. His insights and observations derived from his 36-year career alongside Gene Autry make for fascinating reading." - Holly George-Warren / author, "Public Cowboy No. 1: The Life and Times of Gene Autry"

Nashville, TN (October 16, 2007) - Sherry Bond, the daughter of the late Johnny Bond, will unveil her father's newly published book, 30 YEARS ON THE ROAD WITH GENE AUTRY, in the SunTrust Community Room at the Country Music Hall of Fame® and Museum at 1 p.m. on Friday, November 2. This free event includes a discussion of the book (led by Sherry) and a live music performance by Ranger Doug of Riders in the Sky, followed by a book signing in the Museum Store.

Bond, an Oklahoma-born singer-songwriter, was inducted into both the Country Music Hall of Fame (1999) and the Nashville Songwriters Hall of Fame (1970). He was a gifted entertainer and comedian who joined Autry's entourage in 1940 as part of the Jimmy Wakely Trio. Johnny appeared on countless radio programs and numerous films; performed as a country artist in his own right ("Hot Rod Lincoln"); and wrote hits such as "Cimarron" and "Ten Little Bottles."

Published by Riverwood Press and the Beverly and Jim Rogers Museum of Lone Pine Film History, the book is a boon to lovers of the "Western" in "Country and Western" music. Tales of the road; insights into the long Bond and Autry association; and Autry's personal side are explored in a warm, conversational style. Johnny's admiration for Gene is evident; priceless photographs abound; and this memoir offers us, finally, a wealth of information on both men - and the times they shared.
The book is also available for purchase at www.lonepinefilmhistorymuseum.org .
To schedule interview with Sherry Bond, please contact:
Martha E. Moore
so much MOORE media
615-746-3994