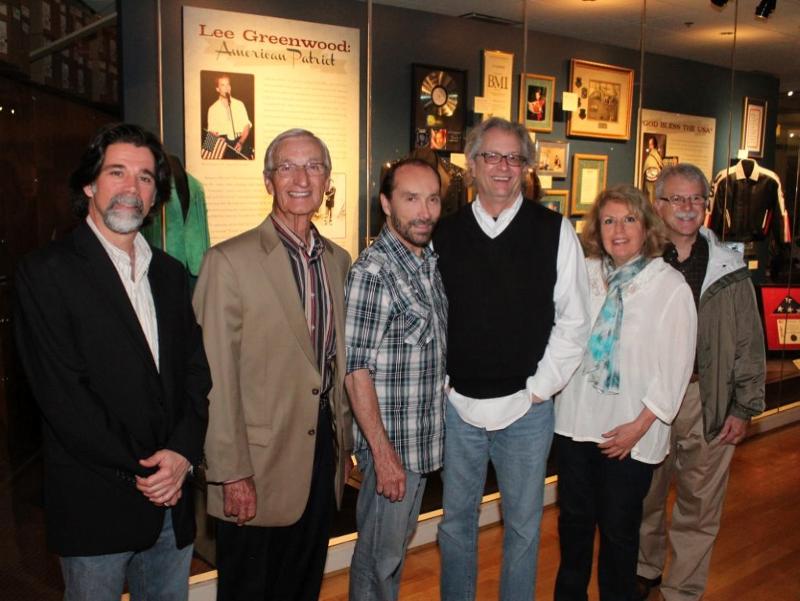 Pictured (L-R): APA Nashville's Steve Lassiter, Lee Greenwood's manager Jerry Bentley, Lee Greenwood, Country Music Hall of Fame & Museum Director Kyle Young, APA Nashville's Bonnie Sugarman and Ray Shelide
(Credit: J. Westby)
Nashville, TN (May 13, 2013) -- APA Nashville salutes Lee Greenwood upon the opening of the country music legend's spotlight exhibit at the Country Music Hall of Fame® and Museum, the 30th anniversary of his iconic heartfelt anthem, "God Bless The USA," and his return to CMA Music Festival with a performance in June. The Lee Greenwood: American Patriot spotlight exhibit, which opened last Friday at the Country Music Hall of Fame and Museum and will run through April 25, 2014, is housed within the museum's permanent third floor exhibit and will feature Greenwood's personal costumes and memorabilia spanning the 50 years of his extraordinary career.
Greenwood's work with the armed forces includes more than 30 USO tours, which resulted in his being honored with the prestigious National Patriot's Award presented by the Congressional Medal of Honor Society. In November 2008, President George W. Bush appointed Lee to a six-year term as a council member on the National Endowment for the Arts.
"Lee is an American musical icon," commented APA Nashville's Steve Lassiter. "His talents, integrity and unwavering commitment to our military, both active and retired, is nothing less than stellar."
Greenwood is also celebrating the 30th anniversary of his signature song, "God Bless The USA," which became a Top 10 Country hit in 1984, earning him the CMA Song of the Year Award in 1985. Produced by Jerry Crutchfield, this American tribute to patriotism remains one of our country's most popular and recognizable anthems.
As he continues to tour on a regular basis, Greenwood will return to the CMA Music Festival next month with a performance on Sunday evening, June 9, at LP Field.
ABOUT LEE GREENWOOD
Greenwood has enjoyed numerous other hits, and he scored 20 Top Ten hits between 1983 and 1990. Among them were the chart-toppers "Somebody's Gonna Love You," "Going, Going, Gone" and "Dixie Road." He has earned numerous industry awards, including Male Vocalist of the Year (Academy of Country Music, 1983), Male Vocalist of the Year (Country Music Association, 1983 and 1984) and a Grammy award for Top Male Vocal Performance in 1985 for "I.O.U." His current EP, I WANT TO BE IN YOUR WORLD, was released in 2011. In 2012, Lee released his book, DOES GOD STILL BLESS THE USA. He devotes much of his free time to various charitable organizations.
Catch up on the latest Lee Greenwood news HERE and follow Lee on Facebook and Twitter for ongoing updates.
###
Media Contacts
APA Nashville
Martha E. Moore / 615-746-3994 /martha@somuchmoore.com
Kirt Webster / 615-777-6995 / kirt@websterpr.com

APA Agency
Alexis Amonic / 310-888-4282 /aamonic@apa-agency.com
Lee Greenwood
April Taylor / 615-777-6995 /
april@websterpr.com