Burrito Deluxe's DISCIPLES REDUX Tour
Returns To Europe March 5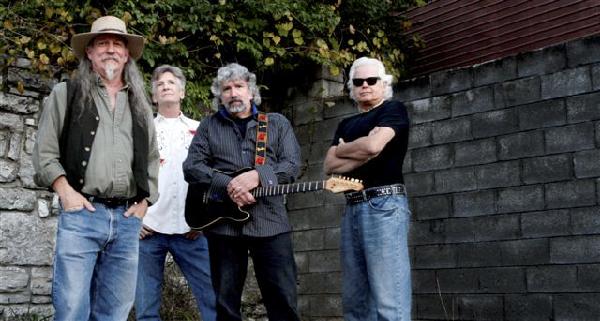 Nashville, TN (February 8, 2008) - Burrito Deluxe brings their special blend of country & roots-rock back to Europe March 5 as they embark upon the first leg of their DISCIPLES REDUX Tour, which includes dates in France and Switzerland. The group will be playing some old favorites, along with songs from their latest CD, DISCIPLES OF THE TRUTH, and their itinerary takes them through the summer, with additional stops in Denmark, Holland and France. (PHOTO: Supe, Rick, Carlton & Walter. Credit: Collen Curtis)
Burrito Deluxe, a tight-knit group of experienced musicians, is made up of lead vocalist, mandolin player and guitarist Carlton Moody (The Moody Brothers); electric guitarist, and vocalist Walter Egan (Magnet and Steel, Wanda Jackson); bassist Michael "Supe" Granda also contributes to the wonderful vocal blend (Ozark Mountain Daredevils, "Jackie Blue.") Drummer Rick Lonow was a member of the Flying Burrito Brothers, and is well-known for penning POCO's "Call It Love." He adds his unique vocals to the BD mix as well.
DISCIPLES OF THE TRUTH, produced by Greg Archilla (Matchbox 20, Santana), explores new creative directions, while retaining the group's signature sound. Kelly Ann Monahan of Music News Nashville writes, "The album is filled with tight lyrics, stunning images, enticing messages, and plenty of blues piano and rockin' guitars. As a whole, Burrito Deluxe assembles on stage as a group of high-class, seasoned performers with incredible musical chops and backgrounds. Call it country roots. Call it rock roots. Call it good music."
Wednesday, March 5, 2008
MELODY BLUES
Dinner cruise on the Seine, Paris, FRANCE
www.melodyblues.com
Thursday, March 6, 2008
KULTURSAAL "ZUR LINDE"
Naters SWITZERLAND
www.musicranch.ch

Friday, March 7, 2008
MOONWALKER
Aarburg SWITZERLAND
www.moonwalker.ch
Saturday, March 8, 2008
MUHLE HUNZIKEN
Rubigen SWITZERLAND
www.muehlehunziken.ch

Sunday, March 9, 2008
SCHAFFARM
Merlischachen SWITZERLAND
www.schaffarm.ch
Promoters: Fill-in dates along the tour are still available.
Contact: Margaret Moody at topspinitl@aol.com or (PH): 33 (0) 1 60 42 07 71.