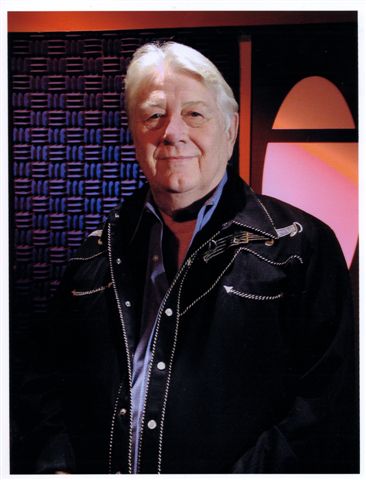 Nashville, TN -- Cowboy Jack Clement, the larger-than-life Music City music wizard, makes a return trip to Europe this April. The itinerary includes five shows with world-renowned blues guitarist Hans Theessink in Austria, and a return engagement at Amsterdam's famed Paradiso with the hot Dutch group, The Watchman. Clement kicks off his European performances Friday, April 4 at a private party in Wien during Theessink's three-day 60th birthday bash, and then celebrates his own birthday (#76) with a public performance at the Metropol in Wien on April 5.
Clement first gained fame in the 1950s, when he discovered Jerry Lee Lewis, and produced his monster hit, "Whole Lotta Shakin' Goin' On," for Sun Records of Memphis. He then solidified his legend status as a key figure in the success of Johnny Cash; writing Cash's 1958 Country and Pop-crossover smashes, "Ballad of a Teenage Queen" and "Guess Things Happen That Way."
In the four decades since, Clement has written, produced and/or published hits for an amazing list of superstars including: U2, Louis Armstrong, Waylon Jennings, Dolly Parton, Townes Van Zandt, Don Williams, Charley Pride, John Prine, Vic Damone, George Jones, Bobby Bare and 2008 Country Music Hall of Fame inductee, Ernest "Pop" Stoneman. Cowboy is perhaps the only producer who can lay claim to masterminding albums by members of the Country Music, Rock & Roll, Jazz, Gospel and Polka Halls of Fame.
In 2007, Clement, Robert Gordon and Martin Neville created the DVD, Shakespeare Was A Big George Jones Fan: Cowboy Jack Clement's Home Movies. The film is described by MOJO's Sylvie Simmons as "an engaging mix of documentary, mockumentary, home movies and Python-esque animation as eccentric and likeable as its subject."
Cowboy is presently working on his next album, and is producing West Coast group Marley's Ghost.
Show Dates:
April 4 Wien Private Party Hans Theessink
April 5-6 Wien Metropol Hans Theessink
April 9 Amsterdam Paradiso The Watchman
April 11 Traun Spinnerei Hans Theessink
April 12 Graz Dupheum Hans Theessink
For interviews, hi-res images and more, contact: John Lomax III (lomax3@gmail.com)
Explore the world of Cowboy Jack online: http://www.cowboyjackclement.com.