Nashville, TN (June 13, 2013) - Joanna Mosca embraced the 2013 CMA Music Festival with performances, interviews and more. Describing the week, the New York songstress declared, "It was like Disneyland for Country music lovers. What a pleasure to meet legendary stars like Brenda Lee and see the enthusiasm of the fans."
Joanna Mosca Signed Autographs At The Chevy Booth (Credit: A Fan from Iowa)
Joanna received her fair share of attention from the friendly waves and shouts during the opening-day parade to an autograph line at the Chevrolet booth that took an hour to clear. "I never imagined folks would wait that long just to meet me," Mosca admits. "But it was very flattering."
Compliments abounded after her engaging set at CMR Nashville's 3rd Annual International Acoustic Show at the Whiskey Bent Saloon. Fans were awed to hear Mosca's live interpretation of her new single, "I Guess That Says It All," a poignant track from her current CD, LET IT ALL BEGIN. The inspiring acoustic performance video of the single can be seen HERE.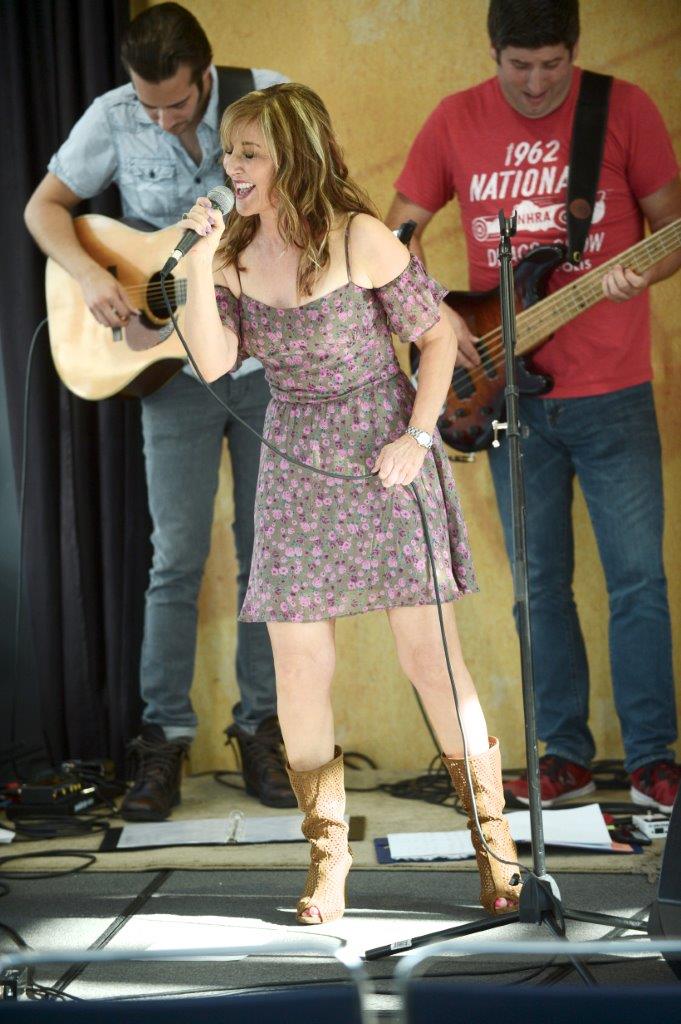 Joanna Mosca Performs Her New Single, "I Guess That Says It All," At The NCVB Stage (Credit: Dan Balog)
The crowd at the Nashville Convention & Visitors Bureau Stage was treated to one of Joanna's strongest performances of the week. That show and Sunday's set at the CHEVROLET Roadhouse Acoustic Stage drew a large number of Joanna's international fans. "Folks had obviously had a good week, enjoyed some great music and were enthusiastic about my songs," Joanna observed.
Between interviews with television, radio and print outlets the outgoing entertainer made time to stop by the studios of Zuus (formerly TCN) to offer a personal thank you for keeping her debut Country video, Dream On Savannah, in their rotation. The clip is also posting good numbers on YouTube with over 200,000 views to date. "It's touching how many emails I've received from young girls who heard me sing the song last week," Mosca states. "It has a powerful message that is really reaching people and that is so gratifying."
Already making plans to return to Nashville for the 2014 CMA Music Festival, Joanna is back at home in New York relishing the memories and her week of "firsts."
ABOUT JOANNA
Joanna's career began with the release of three consecutive Top Ten FMQB AC Radio Chart singles between 2006 and 2008. In 2010 she released her first full-length album, JOANNA MOSCA, which contained six original tunes. The album's first single "Keep On Going" shot onto the Billboard Top 30 AC Chart and earned her a spot on Music Connection magazine's Top 100 Independent recording artists' list. In 2012, Joanna was named "Who New To Watch" in CMA's Close Up Magazine. Mosca was born in Connecticut but currently resides in New York where she has studied acting at the prestigious HB Studio in NYC with teachers who included Uta Hagen and Sir Anthony Hopkins. She has starred in a series of three one-woman shows in New York City that audiences and reviewers praised.
Catch Joanna online at:
https://www.facebook.com/joannamoscamusic
https://twitter.com/joannamosca
http://www.myspace.com/joannamosca
http://www.numberonemusic.com/joannamosca/
http://www.reverbnation.com/joannamosca
# # #
MEDIA CONTACTS:
Martha E. Moore
so much MOORE media
somuchmoore@charter.net
615-746-3994
Kirt Webster
Webster & Associates, LLC
kirt@websterpr.com
615-777-6995