TUNE-IN ALERT
New York Singer/Songwriter JOANNA MOSCA Featured On INSIDE MUSIC ROW
Interview To Impact Over 115 MILLION Homes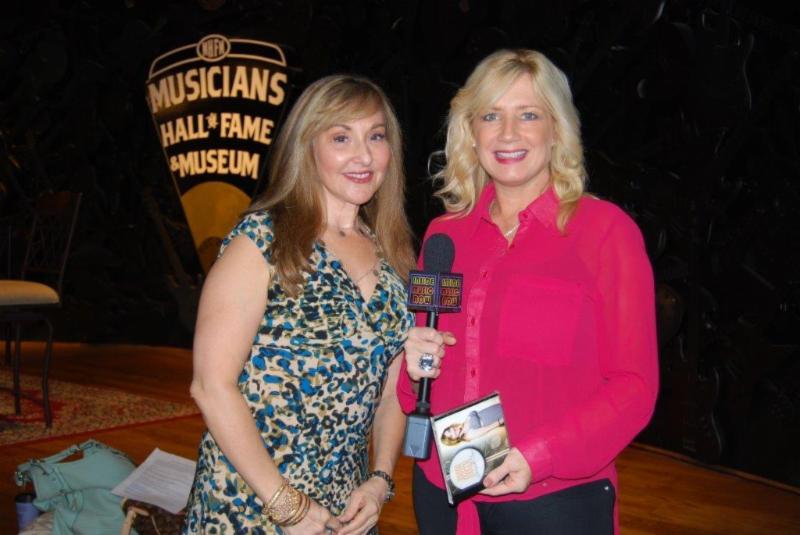 Nashville, TN (December 18, 2013) - New York singer/songwriter JOANNA MOSCA recently shared her thoughts about the road, performing and her personal life with INSIDE MUSIC ROW host Kelly Lynn in an interview that airs today through Sunday, December 22. Fans can view IMR online at zuus.com or go to iTunes to download IMR for viewing on iPhone or Android mobile devices. Nashvillians can catch the show locally on WNAB/CW on Sunday at 2:30 p.m. CT.
"We covered a lot of ground," laughs Mosca. "Kelly is a very intuitive interviewer and I shared some things with her that I don't normally discuss with the press." The taping took place at Nashville's Musicians Hall of Fame Museum.
There's no "dirt" exposed here; just an insight into the challenges - and the joys - every working mother faces. "I am starting to tour more," Joanna notes. "And I'll be touring even more when my next CD is released. Being away from home definitely makes a difference." A recent show at 2000-seater,The Paramount in New York, opening for LeAnn Rimes, is a typical venue for the talented vocalist. "I love theaters, they have such great acoustics," Mosca admits. "They give me and my fans a great opportunity to engage."
Joanna also reflected on working with Grammy award-winning entertainer Bryan White, who produced her current CD, LET IT ALL BEGIN, and how much fun she had recording the disc's duet with LONESTAR's Richie McDonald. Additional topics tackled include Joanna's thoughts on her first CMA Music Festival performances, writing and recording for her upcoming album, and the acting skills she drew upon during the video shoot at The Franklin Theatre for the fan-favorite clip "Dream on Savannah."
ABOUT JOANNA
Joanna's music career began with the release of three consecutive Top Ten FMQB AC Radio Chart singles between 2006 and 2008. In 2010 she released her first full-length album, JOANNA MOSCA, which contained six original tunes. The album's first single "Keep On Going" shot onto the Billboard Top 30 AC Chart and earned her a spot on Music Connection magazine's Top 100 Independent recording artists' list. In 2012, Joanna was named "Who New To Watch" in CMA's Close Up Magazine. Mosca was born in Connecticut but currently resides in New York where she has studied acting at the prestigious HB Studio in NYC with teachers who included Uta Hagen and Sir Anthony Hopkins. She has starred in a series of three one-woman shows in New York City that were praised by audiences and critics alike.
ABOUT INSIDE MUSIC ROW
INSIDE MUSIC ROW offers fans the latest in Country news. The syndicated show is available in over 100 markets ranging from Abilene to Australia and from Paris, France to Pittsburgh, PA, reaching over 115 MILLION households worldwide. Outlets carrying the program include ZUUS Country, Showcase Channel (UK), AMG-TV, CMC (AUS),FamilyNet, Rural-TV, Blue Highways Television, Country 99TV (New Zealand), HighwayFM.com (Paris, France) and many more.
Get social with Joanna online at:
https://www.facebook.com/joannamoscamusic
https://twitter.com/joannamosca
# # #
MEDIA CONTACTS:
Martha E. Moore
so much MOORE media somuchmoore@charter.net 615-746-3994
Kirt Webster
Webster & Associates, LLC kirt@websterpr.com 615-777-6995