Lantana – First Female Group To Hit Texas Music Chart Top 10 In Years
----Trio Draws National Attention
"Since Lantana is made up of three women playing country influenced music comparisons to the Dixie Chicks may be inevitable. This trio has their own distinct sound; however, with a bluesy soul in the Bonnie Raitt direction. Their harmonies are lush, sweet and poignant, augmenting the honest lyrics. A fresh force to watch out for" – Music Morsels
Nashville, TN (November 1, 2006) – BGM Recording trio LANTANA is the first female group to break the Texas Music chart Top 10 since the Dixie Chicks did so years ago. This week, their single,
"Country As A City Girl Can Be,"
landed at #9, and made its Music Row chart debut as well.
LANTANA (Biz Haddock, Karol Ann DeLong and Dalene Richelle) is hitting its stride – and the ladies are earning a name for themselves - despite the comparisons to the Dixie Chicks. Three gorgeous women, three beautiful voices, plus some great country songs. The similarities end there.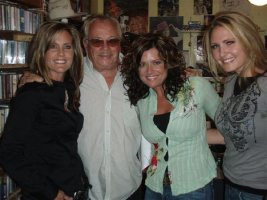 XM Satellite Radio host Bill Mack says," I sincerely believe Lantana is presenting a delightful new package of hope. When Biz, Karol Ann and Dalene entered my studio, there was a personal certainty that their visit was going to be very special. All-in- all, it was not only special, it was unforgettable! The phones went wild. We got calls from Maine to Louisiana." (Credit: Martha Moore)
LANTANA's schedule has included a flurry of personal appearances that even a stumping politician would envy. Highlights over the last three months include the State Fair of Texas; several fashion photo shoots, travel throughout Texas on a radio promo tour, and coverage by CBS-TV/Dallas, Crossroads Live! TV, Oriental Music Channel/China and the ultra- hip ON Q TV. Features on the group have run in Country Weekly , Dallas Morning News, Countrystarsonline, TheCelebrityCafe.com, Nashville City Paper, Star Country! and Music City News.
LANTANA is breaking barriers – and loving every minute of it. Their CD, UNBRIDLED, is moving briskly at Wal*Mart, Borders, Virgin, Hastings and other retail outlets. Learn more about Biz, Karol Ann & Dalene at: www.lantanamusic.com or at www.myspace.com/lantanacountrymusic.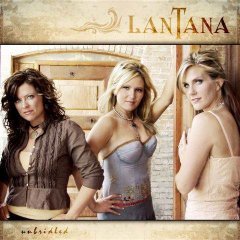 ***MEDIA NOTE: For mp3 of "Country As A City Girl Can Be," review copy of UNBRIDLED or interview, please contact: martha@somuchmoore.com.