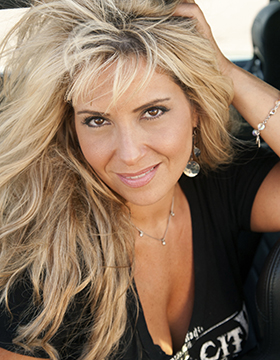 Nashville, TN (August 19, 2013) - Rising Country star Lisa Matassa will sing the National Anthem for one of her favorite hometown MLB teams, the New York Mets, when they face the Atlanta Braves on Tuesday, August 20 at 7:10 p.m. ET. The game will take place at Citifield in Flushing Meadows, NY, just a short distance from Matassa's Long Island home.
"It's very exciting to have a chance to sing our country's National Anthem before a 'hometown' crowd," notes the singer enthusiastically. "I absolutely cannot wait." Fans can catch the game via the following outlets:
TV / RADIO
New York
TV: SNY (SportsNet NY)
Radio: WFAN 660/101.9FM, WEPN 1050
Atlanta
TV: SPSO (SportsSouth Fox Sports)
Radio: 680AM/93.7FM, WNNX 100.5
This is Lisa's first stop at home in several weeks. The vibrant blond has been on a cross-country radio promotion tour in support of her newest single, the dynamic "I Won't Ask." The track is moving up the national MusicRow chart this week and was recently added to Aol Radio's "New Country First," Slacker Radio's "Ladies Of Country" and "New Country First" Channels, as well as Radio.com's "Big Country." Matassa co-wrote the up-tempo song with her guitarist Colin Smith and her producer Tony Bruno.
The singer/songwriter made her Ryman Auditorium debut during the 2013 CMA Music Festival and entertained large audiences at various Music Fest stages throughout the week. Matassa also performed at up-state New York's first Country-themed music event, the Taste of Country Festival. Last month, Lisa sang the national anthem at the Arizona Diamondbacks vs Los Angeles Dodgers game in Phoenix. This energetic Queen of Long Island Country's previous hit song and video "Somebody's Baby," took her to the Top 40 on both the Billboard Indicator and MusicRow charts and has generated over four MILLION YouTube views.
Earlier this year, Lisa made her national television debut on Hallmark Channel's MARIE show. Fans can catch her most-recent TV appearance on Inside Music Row by clicking HERE.
Stay social with Lisa via her website, Facebook & Twitter.
# # #
Media Contacts
Martha E. Moore
so much MOORE media
somuchmoore@charter.net / 615-746-3994
Kirt Webster
Webster & Associates PR & Marketing
kirt@websterpr.com / 615-777-6995