Country Band LiveWire Spotlighted in CMA Close Up Magazine and Debuts on Billboard "New and Active" Chart
The "Pride of Joplin, Missouri" Continues to Make its Mark in the Industry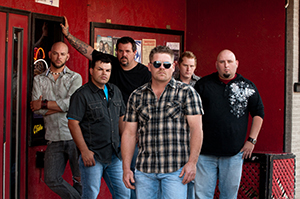 Nashville, TN (February 21, 2013) - Country band LiveWire celebrates two "firsts" this week: the group is showcased with a "Debut Artist Spotlight" in the February/March issue of CMA Close Up magazine and makes its national debut on the Billboard "New and Active" radio chart.
Calling them "the pride of Joplin, Missouri," the official publication of the Country Music Association documents LiveWire's 15-year-long journey to make a name for itself in the Country music world and calls its sound "raw, honest and as American as can be."
At the same time, LiveWire's current single "Lies" debuts this week on the Billboard "New and Active" radio chart alongside current singles by Jason Aldean, Gary Allan and Parmalee.
"We are so blessed to have all these great things happening in our career," states LiveWire lead guitarist and group founder Bobby DeGonia. "They are huge accomplishments for us!"
Members of LiveWire will attend their first Country Radio Seminar in Nashville next week. A busy slate of interviews and songwriting sessions are scheduled.
Things have certainly heated up for the band in recent years. In 2009, LiveWire was a national finalist in the Colgate Country Showdown, cementing its reputation as one of the top regional touring bands in the Midwest. After aligning with Nashville manager Clif Doyal in 2011, LiveWire released a well-received EP which spawned their hit single "Tater Fed." The song received significant airplay on small market radio stations across America - and landed on the Top 40 of the MusicRow radio chart. After signing with independent label WayOut West Records in late 2011, LiveWire released a video for "Tater Fed" and a single and video of "Miracle Of The Human Spirit," which benefited the group's tornado-ravaged hometown of Joplin. "Miracle" received national television airplay on CMT Pure, The Country Network, Yallwire and other outlets. The group was also invited to perform the emotionally-charged song at the six-month anniversary memorial of the tragedy in an event presided over by Missouri Governor Jay Nixon. Recently, LiveWire released its debut album, LIVIN', and the response from critics and fans has been overwhelmingly positive, with acclaim coming from MusicRow, Roughstock, Music News Nashville, Nashville Music Guide, Maverick and dozens of other publications around the world. In another career "first," LiveWire signed with William Morris Endeavor (WME) booking agency in Nashville.
LiveWire members include Andy Eutsler on lead vocals and acoustic guitar, Bobby DeGonia on lead guitar and harmony vocals, Danny Bell on rhythm guitar and harmony vocals, Cory Shultz on fiddle and harmony vocals and Landon Rolfe on bass guitar.
For more information about LiveWire visit: www.livewirecountry.com
Fan LiveWire on Facebook http://www.facebook.com/livewirecountry
Follow LiveWire on Twitter http://twitter.com/livewirecountry
About Way Out West Records
Way Out West Records Nashville is an independent label founded on the principles of nurturing creativity and artistry through long-term development and marketing strategies. The label was co-founded by flagship artist Shawna Russell in 2008.
# # # HI RES JPEG LIVEWIRE PR SHOT
CONTACTS:
For LiveWire
Publicity
Martha E. Moore / so much MOORE media
615-746-3994 / somuchmoore@charter.net
Management
Clif Doyal, Clif Doyal Agency, LLC
615-319-1863 / CDAnashville@gmail.com
For Way Out West Records
Media
CDA Promotions-Nashville
615-885-5998 / CDAnashville@gmail.com
Radio
Mike Severson
615-496-6023 / mike.wayoutwest@gmail.com