"'Drivin' You Outta My Mind' showcases LiveWire's potential for stardom even more than any of their earlier hits. The capacity to follow in Zac Brown Band's indie band success is there for the taking." - Matt Bjorke, Roughstock
"From the opening riff of the twang-centric lead guitars, LiveWire has put together a single full of regret, grit, and a little bit of good ol' Texas/Oklahoma badass! Lead singer Andy Eutsler has never sounded better, and offers an especially unforgettable vocal here." - Chuck Dauphin, Billboard
Nashville, TN (May 12, 2014) - Country band LiveWire releases its latest Way Out West Records' single "Drivin' You Outta My Mind" to Country radio today via Play MPE and CDX InstaTracks. It will be included on CDX Volume 596 on May 26.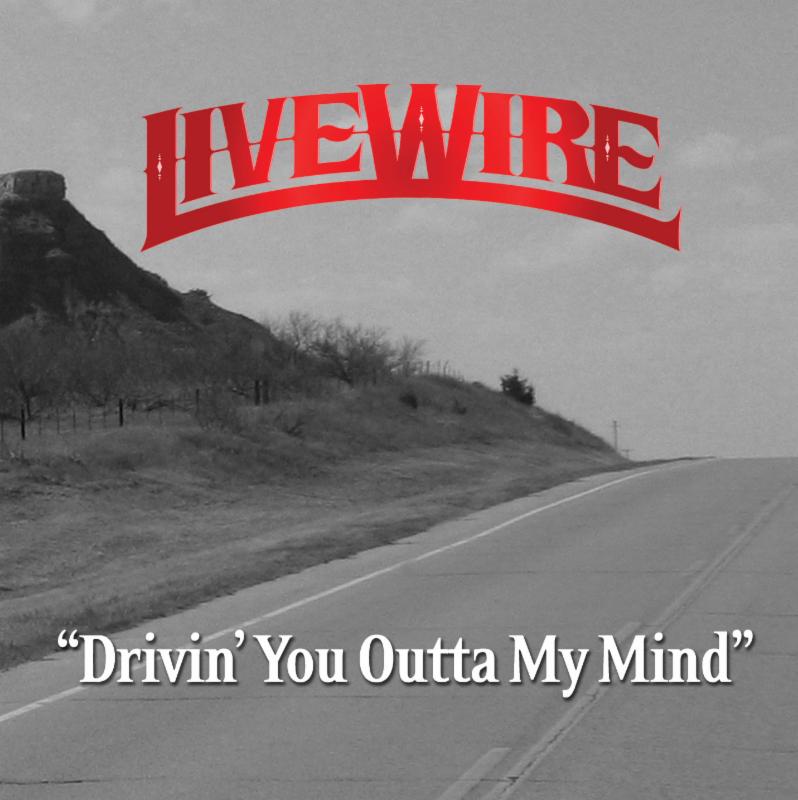 The song premieres for fans today at Roughstock and is available for purchase now at iTunes.
A driving rock beat, burning guitar riffs, haunting pedal steel guitar, impressive fiddle solo and intensely passionate vocals are all hallmarks of "Drivin' You Outta My Mind," LiveWire's much-anticipated follow-up to "Whiskey Sunday," the band's 2013 single which made an impressive run on MusicRow, Texas Music Chart and the Texas Regional Radio Report. The momentum earned LiveWire a nomination for "New Duo/Band/Group of the Year" at the 2014 Texas Regional Radio Music Awards.
From its opening, "Drivin' You Outta My Mind," transports the listener on a wild ride through the wide open West. As lead singer Andy Eutsler begins the narrative, the kick drum pounds as he grabs gears and speeds down the open road. The melancholy and haunting undertone is highlighted as he listens to the radio while the "DJ is pumpin' one more 'over-you-and-leavin'-tune.'" Then all hell breaks loose and the intensity builds as he crosses the Texas/Oklahoma line and shouts "I ain't thinkin' 'bout you Baby and all I'm leavin' behind!" He hopes the fast car will carry him away from the relationship-gone-bad and the demons from his past - even though he knows that it may be a futile attempt to mend his broken heart; "I'm tryin' to get ahead of somethin,' that always seems to catch me with time. Your memory's faster than the lightnin' striking,' but I'm still burnin' down those mile marker signs, drivin' you outta my mind."
"Drivin' You Outta My Mind" was written by LiveWire front man, Andy Eutsler, hit Nashville tunesmith Johnny Bulford (Lee Brice, Eli Young Band, Chris Young) and former LiveWire members Danny Bell and Landon Rolfe. The track was co-produced by Paul Carabello, Justin Woods and Clif Doyal and features band members Andy Eutsler on vocals/acoustic guitar; Bobby DeGonia on electric guitars; Cory Shultz on fiddle and Brad Allen on drums. They were joined in the studio by pedal steel guitarist Scott Kwapiszeski and guitarist/bassist Paul Carabello, who are also part of LiveWire's touring band.
"Drivin' You Outta My Mind" marks a turning point for the band following the departure late last year of longtime rhythm guitarist/harmony vocalist Danny Bell and bassist Landon Rolfe. "In our long history as a band, many great players have come and gone, but the heart of LiveWire still beats strong," states Eutsler. "Our manager, Clif Doyal, really challenged us to pick up the pieces and reinvent ourselves, and to put more emphasis on my songwriting and the musical talent that we have in the band. So, we took a long hard look at where we were and we re-dedicated ourselves to taking this thing to another level."
And, it seems that the formula is working; following a recent successful combined radio and concert tour in Texas and Oklahoma, the single is gaining strong support from Texas/Red Dirt radio programmers since its release to the format in mid-April.
A video for the song is currently in production and is slated for release in June.
ABOUT LIVEWIRE:
Edgy, honest and passionate, LiveWire's unique sound blends elements of working man's Country and rootsy Southern Rock. The band's music has found success at Country radio, both in the U.S. and in Europe, and its videos have received airplay on CMT Pure, ZUUS Country, The Nashville Network and Yallwire. Major media outlets including Billboard, Roughstock, Music News Nashville, the Texas Music Chart, Maverick and MusicRow magazine have all touted LiveWire's talents. Since forming in the mid-'90s, the group's reputation as a top-shelf live act has been honed by years of opening for, and performing on the same bill with, Toby Keith, LeAnn Rimes, Mark Chesnutt, Kix Brooks and Texas/Red Dirt artists Casey Donahew Band, Kyle Park and Bo Phillips, among many others. The band has performed across America and on the hallowed stage of The Ryman Auditorium in Nashville as national finalists in the 2009 Colgate Country Showdown. LiveWire released a self-titled EP in 2011 which included its debut radio hit single, "Tater Fed." After signing with Way Out West Records, LiveWire released a video for "Tater Fed" and a single and video of "Miracle Of The Human Spirit," which benefited the group's storm-ravaged hometown of Joplin, Mo., struck by an EF-5 tornado in the spring of 2011. LiveWire released its debut album LIVIN' on Way Out West in late 2012. The critically-acclaimed album produced the singles "Lies" and "Whiskey Sunday."
For more information about LiveWire visit their website at: www.livewirecountry.com.
Way Out West Records and LiveWire media contact and review copy requests:
CDA Publicity
615-319-1863