<![if !vml]>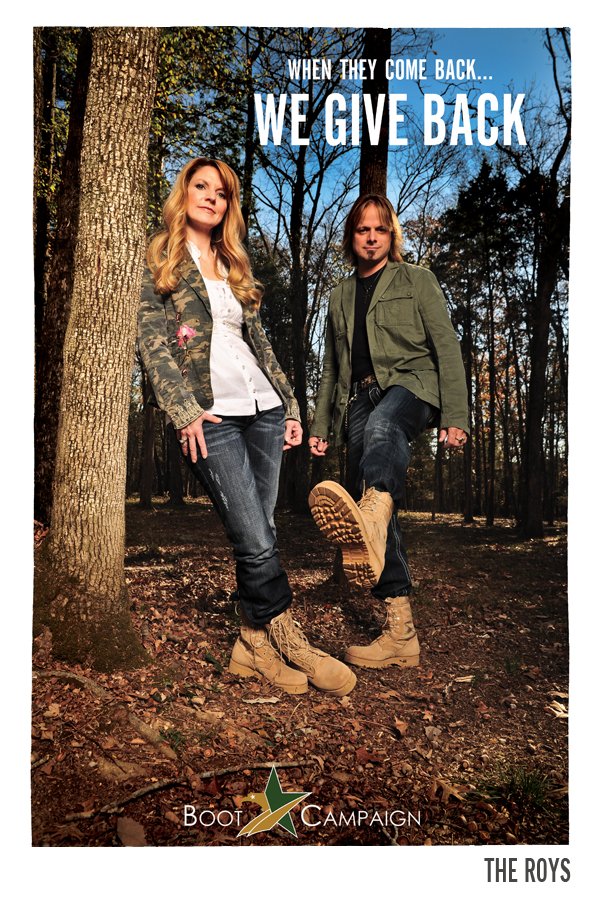 <![endif]>Nashville, TN (January 20, 2011) -- Brother/sister duo, THE ROYS, "get their boots on" as they join the ranks of entertainers, politicians, sports figures and actors who are supporting returning servicemen and women by purchasing (and wearing) Altama combat boots through the nationally-recognized BOOTS ON campaign. Other celebrities already on board include: Charlie Daniels, Joe Nichols, Dallas Cowboy Cheerleaders, Nolan Ryan, Gretchen Wilson, Detroit Red Wings, Texas Governor Rick Perry, Glenn Beck and many more.
The Boot Campaign is a grassroots initiative started by five women from Texas known as the Boot Girls. Through their organization, they have provided an easy and tangible way for Americans to show support of our troops (both past and present) that's practical and directly benefits our military. Proceeds from boot and merchandise sales are donated to partner charities including THE LONE SURVIVOR FOUNDATION, WOUNDED WEAR and NOT ALONE. These organizations assist returning veterans who are dealing with Post Traumatic Stress Disorder and varying degrees of physical injuries. "They give so much for us every day," says Lee Roy of our troops. "The least we can do is promise that when they come back, we give back." THE ROYS hope to help The Boot Campaign reach its goal of 1 million pair of boots sold - soon. "We were thrilled to perform at the Veteran's Day NOT ALONE Benefit Show in Nashville last year," says Elaine Roy. "Boots On allows us to do even more."
ABOUT THE ROYS
THE ROYS have recently signed with Rural Rhythm Records and will release their first CD for the imprint in March. The two-time Inspirational Country Music Duo of the Year (2010, 2009) traveled to Bogota, Columbia on an outreach mission for Compassion International (a group for which they are spokespersons) last year, and made their national television debut on the most-recent Jerry Lewis Muscular Dystrophy Telethon in Las Vegas. Lee and Elaine enjoyed extensive media exposure throughout 2010, including features in People and Country Weekly.