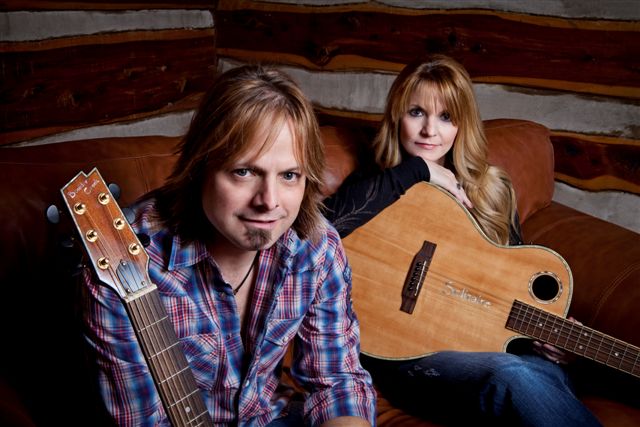 Lee and Elaine Roy (Credit: Anthony Ladd)
Nashville, TN (March 21, 2012) -- Reigning ICM Inspirational Bluegrass Artist of the Year, THE ROYS, invite their fans to join them for Danny Stewart's Bluegrass Cruise aboard CARNIVAL CRUISE LINE'S Sensation January 20-24. The spectacular vessel departs Port Canaveral, Florida for two, four-night Bluegrass sailings January 20-24 and January 27-31, but THE ROYS will entertain during the first sailing only. Ports of call include the exciting islands of Freeport and Nassau; the current, "Early Bird" price of $499 per person (based upon double cabin occupancy) is valid through April 3, but bookings will continue at varied prices. The cost includes luxurious shipboard accommodations and all food and beverages except for carbonated and alcoholic drinks.
Fans can reserve their spot with a budget-friendly $150 deposit at www.theroysonline.com. The process is easy: just go to THE ROYS' site, look for the CRUISE tab on the Home Page; click the tab, fill out the form and submit with your deposit. Bluegrass lovers won't want to miss this sea-going festival, which includes jam sessions, workshops and fun for the whole family. Joining THE ROYS will be other Bluegrass favorites: Mark Phillips & IIIrd Generation, Spinney Brothers, Nu-Blu, and Ernie Evans & The Florida Bluegrass Band.
"Danny's done these cruises for a few years now," says Lee Roy. "And we've heard they're a blast." Lee and his sister Elaine love the cruise "escape," and are looking forward to some warm weather fun with like-minded music lovers next winter. "It sounds like my idea of Heaven," Elaine jokes.
THE ROYS will be ready for a little relaxation by the time this cruise rolls around. The energetic duo's 2012 tour calendar is filled with dates at Festivals and Fairs across the nation, and they are hard at work writing new songs for their sophomore Bluegrass CD.
Fans can catch up with Lee and Elaine, see their complete itinerary and lots more online at www.theroysonline.com