THE ROYS Are Candidates For Nomination In Three Categories As 2012 IBMA Awards Second Round Voting Begins
Siblings Seek Support In Song of the Year, Emerging Artist of the Year & Female Vocalist of the Year Divisions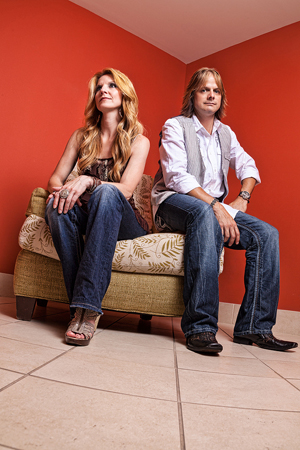 Elaine and Lee Roy
Credit: Anthony Ladd
Nashville, TN (July 9, 2012) -- The reigning Inspirational Country Music's Bluegrass Artist of the Year, THE ROYS, are candidates for nomination in three categories as the 2012 IBMA Awards Second Round voting begins. The siblings are seeking the support of their fellow members in the hopes of securing their inclusion on the ballots for Song of the Year, Emerging Artist of the Year and Female Vocalist of the Year awards. IBMA members can place their vote online now at www.ibma.org.
The brother/sister duo enjoyed "blessed good fortune" in 2011, according to Elaine Roy. Their first Rural Rhythm Records' CD, LONESOME WHISTLE, debuted at #7 on BILLBOARD's Bluegrass Albums Chart and earned them a spot on BILLBOARD'S Top 50 Bluegrass Albums of 2011 Chart. The disc also gave them two hit singles, including "Coal Minin' Man" and the IBMA Song of the Year second round ballot candidate, "Trailblazer."
THE ROYS toured extensively throughout the U.S. and Canada in support of LONESOME WHISTLE and made their debut in Australia this past January. Last week the duo performed for the first time on the SPRINGER MOUNTAIN FARMS Bluegrass Nights At The Ryman Series. Lee and Elaine have enjoyed numerous high-profile national and international TV appearances, including: ABC, CMC, FOX, GAC and RFD. They were featured in the PBS television special Pa's Fiddle: Charles Ingalls, American Fiddle and hosted seven episodes of the Bluegrass Mountains television show. The two co-hosted the first annual Christmas 4 Kids Celebrity Golf Tournament with Tennessee Titans' Placekicker Rob Bironas and enjoyed DJ duties on 650 AM WSM Radio's Guest Artist Series.
You can catch THE ROYS' dynamic live show at the upcoming Bluegrass Festivals:
August 2 Hartford, CT Podunk BGF
August 3 - 5 Stony Plain, AB CAN Blueberry BGF
August 24 Rogersville, NB CAN Rogersville BGF
August 30 - 31 New Richmond, QC CAN New Richmond BGF
September 7 - 8 Franklin, KY Franklin Kentucky BGF September 21 Vine Grove, KY Vine Grove BGF
September 22 Uperco, MD Arcadia BGF
October 4 - 5 Glen Rose, TX Paluxy River BGF
Photos, complete tour schedule, reviews, music and more can be found at www.theroysonline.com.
HIGH RES Pic of The Roys here .
# # #