Nashville, TN (July 19, 2012) -- Rural Rhythm Records is proud to announce the upcoming new album, NEW DAY DAWNING by the award-winning brother/sister duo, THE ROYS. This exciting new project is set for release August 28, 2012 and features the infectious first single "Still Standing" now out to radio and available at AirplayDirect.com. "I gotta believe that 'Still Standing' is theee breakout hit for The Roys! The melody and chorus just stick to ya," said Joe Limardi, 650 AM WSM. Fans can reserve their autographed copy of NEW DAY DAWNING now at a discounted price at TheRoysOnline.com.
Lee and Elaine have created a series of brief videos for Bluegrass Today readers to introduce the songs in advance of the release of NEW DAY DAWNING. Each Tuesday, the publication will feature an audio sample from the album, along with a video clip from The Roys.
The siblings are certainly doing their part carrying on the tradition of tight family harmony that has become so well known in Bluegrass and Country music. With their immaculate harmonies and impeccable musicianship, THE ROYS have become one of the fastest-rising acts in the business; heralded for their traditional vocal styling and a progressive instrumental attitude that has enchanted fans around the world. Rusty James of WDRT Radio stated, "The Roys are one of those artists that you wait in anticipation for their next project to come out, knowing that you won't be disappointed."
Not only have the Lee and Elaine been hailed for their vocals and musicianship, but they also contribute their impressive songwriting talents to all seven tracks on NEW DAY DAWNING:
01 New Day Dawning (Lee Roy, Elaine Roy, Steve Dean)
02 Daddy To Me (Lee Roy, Brandon Rickman)
03 Still Standing (Lee Roy, Elaine Roy)
04 Windin' Roads (Lee Roy, Mark Houser, Jay Brunswick)
05 Grandpa's Barn - Lee Roy, Larry Alderman)
06 Living Scrapbook (Elaine Roy, Steve Dean)
07 Fast As We Roll (Lee Roy, Brian White, Jenee Fleenor)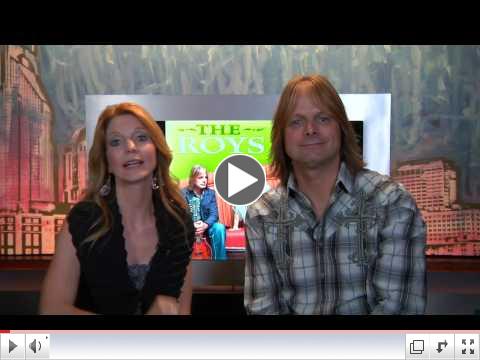 The Roys New Album New Day Dawning Video Message
THE ROYS made their Ryman Auditorium debut earlier this month as part of the legendary venue's six-week series, SPRINGER MOUNTAIN FARMS BLUEGRASS NIGHTS AT THE RYMAN. Elaine and Lee are booked through the end of the year at festivals and fairs both in the U.S. and Canada. They have made two recent national TV appearances including RFD-TV's Reno's Old Time Music Festival and the PBS Special, Pa's Fiddle: Charles Ingalls, American Fiddler. For more information on THE ROYS and to reserve your autographed copy of NEW DAY DAWNING, please visit TheRoysOnline.com.
NEW DAY DAWNING is the second Rural Rhythm Records album by THE ROYS. Their first for the label, LONESOME WHISTLE debuted at #7 on Billboard's Bluegrass Albums Chart that included two chart singles: "Coal Minin' Man" and the current Bluegrass chart hit, "Trailblazer." The label released music videos for both of these popular songs, and the "Coal Minin' Man" video was featured on GACTV.com's Top Picks Channel and on the ballot for Top 20 Country Countdown. Fans can watch the videos on The Roys' website and on RuralRhythm.com.
# # #
Media Contact for The Roys:
so much MOORE media
Martha E. Moore, email: somuchmoore@charter.net
615-746-3994
New Day Dawning CD Cover (Hi Res)
THE ROYS' Press Photo (Hi Res)
Rural Rhythm Records
Label Media: Penni McDaniel, penni@ruralrhythm.com, 678-377-3298
Radio: Rick Fowler, rick.fowler@ruralrhythm.com, 615-470-5451