Nashville, TN (July 22, 2013) - Award-winning Bluegrass brother/sister duo THE ROYS are featured in the PBS JUBILEE series airing nationwide this week. Kentucky Educational Television (KET) will broadcast the program Tuesday, July 23 at 8 p.m. CDT. Check your local listings for show times in your area or view the episode online after the broadcast at www.ket.org/jubilee. The popular series, produced by KET, features an eclectic mix of traditional and contemporary Bluegrass, Blues, American and Celtic Folk, Southern and African-American Gospel, Rock and Roll and other diverse forms of "Roots" music.
Filmed during 2012 IBMA Week, Lee and Elaine perform six songs from their NEW DAY DAWNING and LONESOME WHISTLE projects and are highlighted in four interview clips. This is the eighth installment of the series which centers on a "family entertainers" theme. Appearing along with THE ROYS on the one-hour show are Darin & Brooke Aldridge and The Bankesters.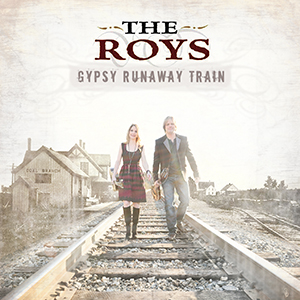 Currently, the duo is promoting their third release for Rural Rhythm
Records,
GYPSY RUNAWAY TRAIN
. Reviewers are calling the disc THE
ROYS' best to-date, describing the singing, writing and playing as "flawless."
The title track and CD are chart-active and are resonating with fans.
ABOUT THE ROYS
Massachusetts-born but Canada-raised, Lee and Elaine grew up in a home full of love and music. After bursting on to the Bluegrass scene in 2011, THE ROYS enjoyed a steady ride to the top. Talented and convivial, the duo has received the accolades of their peers, winning the coveted Inspirational Country Music's Bluegrass Artist of the Year award for two consecutive years (2012 and 2011). They were previously honored with the ICM's Duo of the Year award in 2010 and 2009. In 2012, Lee and Elaine toured extensively throughout the U.S. and Canada and made their debut in Australia. The momentum continues this year, and in May the duo traveled to Europe and the U.K. for the first time.
Get social with Lee and Elaine at www.theroysonline, Facebook and Twitter.
###
MEDIA CONTACTS
PUBLICITY:
so much MOORE media
Martha E. Moore / 615-746-3994
MANAGEMENT:
Entertainment Evolution
Shelly Mullins / 615-889-6995
shelly@entertainmentevolution.net
FOR BOOKING INQUIRIES:
Moonstruck Management / Excellence, Integrity, Vision
Josh Trivett / 626-893-5216
The Agency Group Ltd
John Gimenez / 615-564-2580
JohnGimenez@theagencygroup.com