Oh Brother, Oh Sister, Oh SiriusXM!
THE ROYS' New CD World Premiere Set For
SiriusXM Bluegrass Junction July 24
Duo's Sophomore Rural Rhythm Records' Disc, NEW DAY DAWNING,
In Stores August 28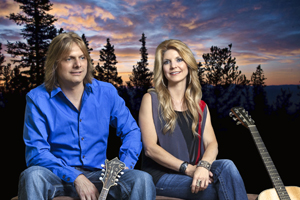 Nashville, TN (July 23, 2012) -- Oh Brother, Oh Sister, Oh SiriusXM! THE ROYS' new Rural Rhythm Records' CD, NEW DAY DAWNING, enjoys its world premiere on SiriusXM Bluegrass Junction Channel 61 at 8 a.m. ET on July 24. The new disc hits stores on August 28, but fans can pre-order a signed and discounted copy now on THE ROYS' website, www.theroysonline.com.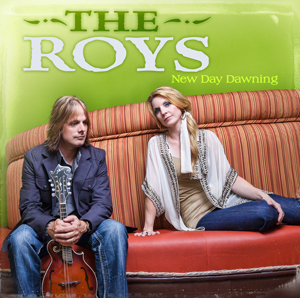 The disc's infectious debut single, "Still Standing," is sure to be heard during the premiere; the track features Elaine on lead vocals and is already generating strong spins and praise-filled reviews. An up-tempo tale of perseverance and personal identity, the song showcases the duo's signature harmonies in tradition-making form. Blazing fiddle and mandolin runs brighten the track, which sets a lightning pace and never once falters.

Click here
One of the fastest-rising acts in the business, THE ROYS are heralded for a vibrant and progressive instrumental attitude that complements their vocal style. Their distinctive Roots sound has enchanted fans since the duo arrived in Nashville six years ago. "It's definitely been a growth process for us," explains Elaine of their unique genre-bending music. "We have nurtured this sound," adds Lee. "I think the new music reflects that." Fans at THE ROYS' recent live shows are calling the engaging "Grandpa's Barn," the unforgettable up-tempo "Fast As We Roll," and the poignant "Living Scrapbook" songs to watch.
THE ROYS are thrilled to have new music to offer their fans; their first Rural Rhythm Records' album, LONESOME WHISTLE, kicked their career into high gear. The disc's success earned them a spot on BILLBOARD'S Top 50 Bluegrass Albums of 2011 Chart, helped win them Inspirational Country Music's Bluegrass Artist of the Year award in 2011, and generated a No. 1 single with "Coal Minin' Man." The duo toured extensively throughout the U.S. and Canada in support of that disc and made their debut in Australia this past January. A jam-packed performance schedule has had the siblings burning up the road all year. They've just returned from a four-day run at Country Thunder in Twin Lakes, WI, and upcoming shows include:
August 2 - Hartford, CT - Podunk BGF
August 3 - 5 - Stony Plain, AB CAN - Blueberry BGF
August 24 - Rogersville, NB CAN - Rogersville BGF
August 30 - 31 - New Richmond, QC CAN - New Richmond BGF
September 7 - 8 - Franklin, KY - Franklin Kentucky BGF
September 21 - Vine Grove, KY - Vine Grove BGF
September 22 - Uperco, MD - Arcadia BGF
October 4 - 5 - Glen Rose, TX - Paluxy River BGF
October 11 - Nashville, TN - The Station Inn
October 27 - Great Mills, MD - Flat Iron Farms
# # #
MEDIA CONTACT
Martha E. Moore / 615-746-3994
so much MOORE media