Nashville, TN (August 5, 2013) - Award-winning Bluegrass duo THE ROYS brought their high-lonesome sound, drew new fans to the genre and inspired a new performance area at the 2013 Wisconsin Country Thunder festival July 19 - 21. Over 30,000 Country music lovers were introduced to the traditional and contemporary sounds of Bluegrass. Festival organizers tapped Lee and Elaine Roy as Bluegrass "ambassadors" and had invited the talented brother/sister duo to host the inaugural The ROYS' Pickin' Porch stage.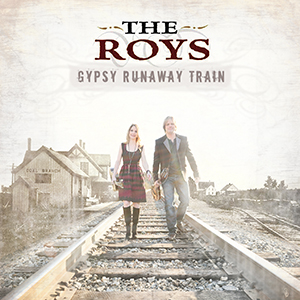 With the advent of the new performance area, THE ROYS are spearheading a movement that results not only in new fans, but boosts album sales as well. The duo has two albums thundering up the BILLBOARD Bluegrass Albums Chart this week: their newest CD, GYPSY RUNAWAY TRAIN at #2, and the August 2012 release, NEW DAY DAWNING, re-entering the chart at #3. Additionally, the GRT music video is in solid rotation on ZUUS Country's Americana Currents.
THE ROYS are always looking for new ways to expand the audience for Bluegrass music. They have discovered the best way is to listen to their fans. "At every Country festival we hear the same thing at our autograph table from the fans," says Elaine. "Wow. I'm a Country music fan. I didn't know I liked Bluegrass until I heard your music. So now I am a Bluegrass fan." Lee adds with big smile, "Turns out Country music lovers are Bluegrass music lovers, and we love it!"
For four days, THE ROYS' Pickin' Porch entertainers treated Country music fans to spectacular performances. The duo, Trinity River Band, The High 48's, Truman's Ridge and The Henhouse Ramblers easily won over the crowd. Country Thunder Executive Producer Troy Vollhoffer notes, "We are always looking to add additional value to the festival, and we couldn't be more pleased with the addition of the Pickin' Porch to this year's Country Thunder Wisconsin. Bluegrass music is an entertaining blend of Country, Jazz, Roots and Americana music, and The Roys are incredible ambassadors of this genre of music. We are proud to offer this option of entertainment to our fans."
In addition to their hosting duties, Lee and Elaine also shared the festival's main stage with some of Country's hottest acts, including Keith Urban, Dierks Bentley, Brad Paisley, Little Big Town, Chris Young and more. This is the third consecutive year that THE ROYS have performed on the main stage at WCT. Last year, the duo introduced Country fans to their signature Bluegrass sound at Arizona Country Thunder.
The siblings were recently featured on PBS' Jubilee series (which includes performances from their previous two Top 5 BILLBOARD Bluegrass Albums Chart projects, LONESOME WHISTLE and NEW DAY DAWNING. If you missed the program, click HERE to view.
August/September Tour Dates
August 07 - York Golf and Tennis Club - York, ME
August 09 - La Tavarne A Joe - Bouctouche NB Canada
August 10 - Clare Bluegrass Festival - Digby NS Canada
August 11 - Clare Bluegrass Festival - Digby NS Canada
August 14 - Taffy's - Eaton, OH
August 17 - Nelson's Music City - Farmington, MO
August 23 - Outer Banks Jubilee - Kitty Hawk, NC
August 24 - Ribz 4 Kidz - Lewisburg, PA
August 25 - Craig Civic Center - Kingwood, WV
August 28 - Bluegrass in the Park - Staunton, VA
September 07 - Renfrew Fair - Renfrew, Canada
September 14 - Midnite Jamboree - Nashville, TN
September 20 - Poppy Mountain Bluegrass Festival - Morehead, KY
September 21 - Dumplin Valley Bluegrass Festival - Kodak, TN
September 28 - Willies Locally Known - Lexington, KY
September 29 - Washington County High School - Sandersville, GA
Stay social with Lee and Elaine at www.theroysonline, Facebook and Twitter.
###
MEDIA CONTACTS
PUBLICITY:
so much MOORE media
Martha E. Moore / 615-746-3994
MANAGEMENT:
Entertainment Evolution
Shelly Mullins / 615-889-6995
shelly@entertainmentevolution.net
FOR BOOKING INQUIRIES:
Moonstruck Management / Excellence, Integrity, Vision
Josh Trivett / 626-893-5216
The Agency Group Ltd
John Gimenez / 615-564-2580
JohnGimenez@theagencygroup.com