THE ROYS Ramp Up Launch Of New CD With Prescription Bluegrass & SiriusXM Promo Exclusives
PRESCRIPTION BLUEGRASS Offers Premiere of Lyric Video August 13-19 & Duo Goes Track-By-Track With BLUEGRASS JUNCTION, SiriusXM 61 August 22-26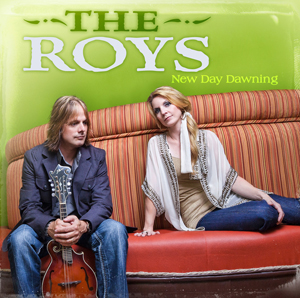 Nashville, TN (August 13, 2012) -- THE ROYS ramp up to the August 28 launch of their new Rural Rhythm Records' CD, NEW DAY DAWNING, with exclusive promotions on PRESCRIPTION BLUEGRASS and BLUEGRASS JUNCTION, SiriusXM 61 Track-By-Track.
Starting today, fans can catch a first for Bluegrass artists as PB debuts a Lyric Video for the duo's current single, "Still Standing." According to the site's Brian McNeal, "Lyric videos aren't a new thing, but with some sleuthing we've discovered that they are new to Bluegrass. We've been in this trend-setting duo's fan-camp since their first album, so we're extremely proud to help them launch this CD with this first-of-its-kind for Bluegrass lyric video." The catchy piece can be seen HERE.
Beginning August 22, SiriusXM will take an in-depth look at THE ROYS' new project during their popular Track-By-Track program. Lee and Elaine offer insights into their songs and discuss their musical influences in the intimate interview with show host Kyle Cantrell. Cantrell urges fans to tune in, saying, "Elaine and Lee have such a gift for finding great songs, and singing wonderful harmony, and they're fun to talk to as well. We had such a good time chatting with them about their new release, NEW DAY DAWNING. Don't miss this show!" Music fans can catch the BLUEGRASS JUNCTION, SiriusXM 61 broadcast on the following dates/times (EASTERN):
Wednesday, 8/22, 11:00 a.m.
Thursday, 8/23, 9:00 p.m.
Saturday, 8/25, 8:00 a.m.
Sunday, 8/26, 11:00 a.m.
Fans can pre-order their copy of NEW DAY DAWNING now from AMAZON or from THEROYSonline.com.
ABOUT THE ROYS
One of the fastest-rising acts in the business, THE ROYS are heralded for a vibrant and progressive instrumental attitude that complements their vocal style. Their distinctive Roots sound has enchanted fans since the duo arrived in Nashville six years ago. With over 150 dates booked so far this year, Lee and Elaine have shared the stage with George Jones, Lady Antebellum, Jason Aldean, John Rich, Darryl Worley, Janie Fricke, The Oak Ridge Boys and Chris Young. Additionally, they have enjoyed high-profile TV gigs, including performances on Fox & Friends, Daytime, The Daily Buzz, ABC's What's The Buzz, GAC's Headline Country, RFD's Campfire Café and Larry's Country Diner and more. They were recently featured in the PBS television special Pa's Fiddle: Charles Ingalls, American Fiddler and have hosted seven episodes of the Bluegrass Mountains television show. THE ROYS' first Rural Rhythm Records' CD, LONESOME WHISTLE, earned them a spot on BILLBOARD'S Top 50 Bluegrass Albums of 2011 Chart and gave them two hit singles: "Coal Minin' Man" and "Trailblazer." In addition to chart success, the duo is also receiving the accolades of their peers, winning the coveted 2011 Inspirational Country Music's Bluegrass Artist of the Year. The siblings were previously honored with the ICM's Duo of the Year award in 2010 and 2009.
###
MEDIA CONTACT
Martha E. Moore / 615-746-3994
so much MOORE media