THE ROYS' NEW DAY DAWNING Debuts On Billboard Bluegrass Albums Chart At Number 2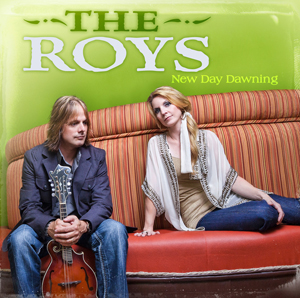 Nashville, TN (September 5, 2012) - THE ROYS' sophomore Rural Rhythm Records' disc, NEW DAY DAWNING, debuts at Number 2 on Billboard's Bluegrass Albums Chart.
NEW DAY DAWNING is a seven-song EP (a first for a Bluegrass artist) that finds the siblings in fine form. Their impressive traditional-style vocals ride high over progressive musicianship, keeping the duo's sound fresh and energizing. Their songwriting talents are truly remarkable, and the disc's first single release, "Still Standing," written by Lee and Elaine is already proving to be another "winner." Other highlights include the live-show favorite "Grandpa's Barn," the heartbreaking "Daddy To Me," the moving "Windin' Roads" and the hypnotic "Fast As We Roll."
Reviewers are hailing NEW DAY DAWNING, saying:
"The album showcases Lee and Elaine's smooth, enjoyable brand of modern, Country-influenced Bluegrass." - BLUEGRASS TODAY
"If you are new to the magic of family harmony in Bluegrass, start with THE ROYS. If, on the other hand, you are steeped in the Louvins, the Stanleys and the Osbornes ... when you first hear NEW DAY DAWNING your reaction will be 'Yeah man, that's it right there! Don't change that channel.'" - WORLDWIDE BLUEGRASS
"On their new studio album, NEW DAY DAWNING, the brother/sister duo continues to blend an uplifting message with a traditional sound and sibling harmonies as they take time to reflect on their own roots." - GAC
"There's not a weak song on the album." - BLUEGRASS NOTES
In case you missed these features and reviews, click on BILLBOARD, GAC, ROUGHSTOCK, Examiner.com, ParcBench and NO DEPRESSION.
In addition to glowing reviews, the EP is drawing high numbers in the Social Media world. During a Twitter chat on August 28 with Jessica Northey of #CMChat, over 25 million impressions and a reach of 1 million were tallied. "Great numbers for a special Tuesday chat with THE ROYS," notes Northey. "It was wonderful to have Elaine and Lee as guests on #CMchat! They are both so talented. I loved hearing their personal stories and delving deeper into the Bluegrass genre." Lee and Elaine's Facebook pages and Twitter accounts have also enjoyed high levels of activity since the EP's release was announced.
The brother/sister duo's first Rural Rhythm release, LONESOME WHISTLE, debuted at Number 7 on the same chart and ended up with a spot on BILLBOARD Top 50 Bluegrass Albums of 2011 chart. That CD also generated two hit singles: "Coal Minin' Man" and "Trailblazer."
Fans can follow THE ROYS online at www.THEROYSonline.com, Facebook and on Twitter @theroysonline.
New Day Dawning CD Cover (Hi Res)
THE ROYS' Press Photo (Hi Res)
# # #
CONTACTS:
BOOKING
Moonstruck Management
Josh Trivett / 626-893-5216
MEDIA
so much MOORE media
Martha E. Moore / 615-746-3994