Another New Day Dawns For THE ROYS - Duo Signs Exclusive Global Booking Agreement With Moonstruck Management
Alliance Follows Release of THE ROYS' New EP, NEW DAY DAWNING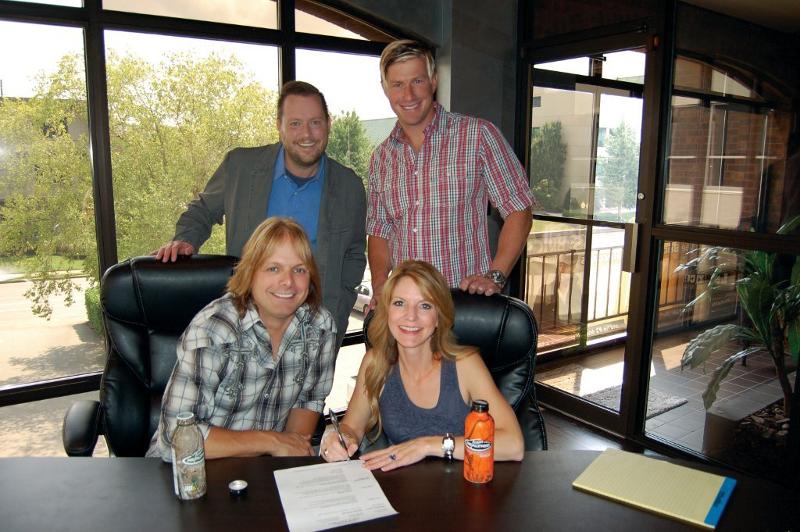 Lee and Elaine Roy are all smiles as they sign their new booking deal with Moonstruck Management partners Peter Keiser and Josh Trivett.
Nashville, TN (September 6, 2012) - Another new day is dawning for super-hot duo THE ROYS. The trend-setting siblings just signed an exclusive global booking agreement with prestige agency, Moonstruck Management. "Peter and I have been fans of THE ROYS since the beginning," notes Josh Trivett, Moonstruck Management partner. "We have watched them closely - both as they burst on to the Bluegrass scene with their signature sound and gave performances that are their own and truly unique. It is with great pride that we join THE ROYS' team, and we look forward to growing with them for years to come," Trivett adds.
For Lee and Elaine the signing with Moonstruck Management for representation is another step forward. Just as their sophomore Rural Rhythm Records' disc debuts at Number 2 on the Billboard Bluegrass Albums Chart, they join an elite roster that includes Russell Moore & IIIrd Tyme Out, Sal Gonzalez, Lonesome River Band, Bobby Osborne & The Rocky Top X-Press and The Sleepy Man Banjo Boys.
As the reigning Inspirational Country Music's Bluegrass Artist of the Year, THE ROYS have just received nominations in three categories for the 18th Annual ICM Faith, Family & Country™ Awards scheduled to be held October 18. The siblings were previously honored with the ICM's Duo of the Year award in 2010 and 2009.
Fans can follow THE ROYS online at THEROYSonline.com, Facebook and on Twitter @theroysonline.
New Day Dawning CD Cover (Hi Res)
THE ROYS' Press Photo (Hi Res)
# # #
CONTACTS:
MEDIA
so much MOORE media
Martha E. Moore / 615-746-3994
BOOKING
Moonstruck Management / Excellence, Integrity, Vision
Josh Trivett / 626-893-5216