THE ROYS To Appear On CBS THIS MORNING, FOX & FRIENDS And More
Exposure Surrounds Release of Latest CD, NEW DAY DAWNING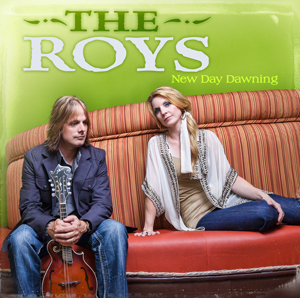 Nashville, TN (September 12, 2012) -- THE ROYS' latest EP, NEW DAY DAWNING, was released on August 28, and the disc debuted at Number 2 on the Billboard Bluegrass Albums Chart last week. In support of the release, the award-winning duo will appear on the following syndicated radio and national television programs:
September 10 - 16 / KNEE-DEEP IN BLUEGRASS, Artist Spotlight. Syndicated radio; (click link for network affiliates and local broadcast times)
September 15 / CBS THIS MORNING, 8 a.m. ET hour. Interview and performance.
September 15 - 16 / DR. STEVE SHOW, various times / various markets. Episode taped at Nashville's Monroe Carell Jr. Children's Hospital at Vanderbilt for a Music Therapy segment. Click HERE for more information.
September 16/ FOX & FRIENDS, 8 a.m. ET hour. Performance.
September 26 / THE BETTER SHOW, (click link to determine local airdates / times)
More national television is scheduled for October, and details will be announced soon.
In the midst of this hectic appearance schedule, THE ROYS are preparing for a busy International Bluegrass Music Association (IBMA) week. They've just signed an exclusive new booking agreement with Moonstruck Management and have announced the details of a strategic partnership with Team RealTree™ Outdoor Energy Drink. Their current single, "Still Standing," recently enjoyed exclusive coverage on AOL, SiriusXM, FOX NEWS Edge, #CMChat, Bluegrass Radio Network and GAC-TV.
Copies of NEW DAY DAWNING (Rural Rhythm Records) are available at retail outlets Wal-Mart, Music Millennium, The Disc Exchange, Ernest Tubb Record Shops and online at AMAZON and iTunes.
New Day Dawning CD Cover (Hi-Res)
THE ROYS' Press Photo (Hi-Res)
###
Media Contacts
For The Roys
so much MOORE media
Martha E. Moore
somuchmoore@charter.net / 615-746-3994
Booking
Moonstruck Management / Excellence, Integrity, Vision
Josh Trivett / 626-893-5216
Rural Rhythm Records
Label Media: Penni McDaniel
penni@ruralrhythm.com / 678-377-3298