Mitt Romney Invites THE ROYS To Perform During Victory Rally in Painesville, OHIO September 14
Award-Winning Bluegrass/Roots Duo "Thrilled"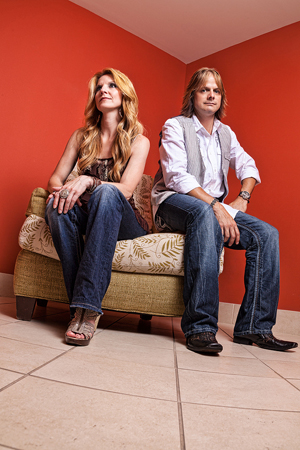 Nashville, TN (September 13, 2012) -- Mitt Romney extended an invitation to award-winning Bluegrass/Roots duo THE ROYS to perform during his Victory Rally in Painesville, Ohio tomorrow, September 14. The duo's last political performance was for President George W. Bush at Andrews Air Force Base on the day he left office.
The Romney event, held at Lake Erie College (391 W. Washington Street), begins at 2:30 p.m. Doors Open 12:30 p.m., and politicos and music fans can RSVP at http://mi.tt/Og1Kg7. THE ROYS take to the stage at approximately 2:30 p.m. for a performance that will feature songs from their brand EP, NEW DAY DAWNING, and their critically-acclaimed previous CD, LONESOME WHISTLE.
"We were thrilled by Governor Romney's invitation," notes Elaine Roy. "But we are going to ask him if we're on that famous iPod of his," jokes her brother, Lee.
For THE ROYS, high-profile performances have become the norm, and their fans will have ample opportunity to catch the duo as Lee and Elaine continue a circuit of national television appearances this week:
September 15 / CBS THIS MORNING, 8 a.m. ET hour. Interview and performance. www.cbsnews.com/cbsthismorning
September 15 - 16 /DR. STEVE SHOW, various times / various markets. Episode taped at Nashville's Monroe Carell Jr. Children's Hospital at Vanderbilt for a Music Therapy segment.
September 16/ FOX & FRIENDS, 8 a.m. ET hour. Performance.
September 26 / THE BETTER SHOW, (click link to determine local airdates / times)
ABOUT THE ROYS
The high-energy duo has performed at over 150 shows so far this year. The siblings' new EP debuted at Number 2 on the Billboard Bluegrass Albums Chart last week, and their current single, "Still Standing," recently enjoyed exclusive coverage on AOL, SiriusXM, FOX NEWS Edge, #CMChat, Bluegrass Radio Network and GAC-TV. The duo has shared the stage with George Jones, Lady Antebellum, Jason Aldean, Ricky Skaggs, John Rich, Darryl Worley, Doyle Lawson, Janie Fricke, The Oak Ridge Boys, Rhonda Vincent and Chris Young. They were recently featured in the PBS television special Pa's Fiddle: Charles Ingalls, American Fiddler and have hosted seven episodes of the Bluegrass Mountains television show.
Fans can follow Lee and Elaine online at THEROYSonline
Facebook and on Twitter @theroysonline.
New Day Dawning CD Cover (Hi-Res)
THE ROYS' Press Photo (Hi-Res)
###
Media Contact
For The Roys
so much MOORE media
Martha E. Moore
somuchmoore@charter.net / 615-746-3994