Nashville, TN (November 4, 2013) - Award-winning Bluegrass siblings THE ROYS marked another milestone in their career with their Grand Ole Opry debut last Friday night on the stage of Nashville's world-famous Ryman Auditorium. Introduced by Grammy-winning Opry legend Jeannie Seely and backed by the renowned Opry band, THE ROYS brought down the house with
"You Can Count on My Love"
and their version of Merle Haggard's
"Ramblin' Fever,"
both tracks from their latest album
GYPSY RUNAWAY TRAIN
.
"There are no words to describe what we're feeling right now, so we thank y'all for sharing in our dream come true," vocalist/guitarist Elaine Roy told the Ryman audience. "I just want to say that dreams do come true, so never give up. God always opens the doors. You will never know how incredibly awesome this is."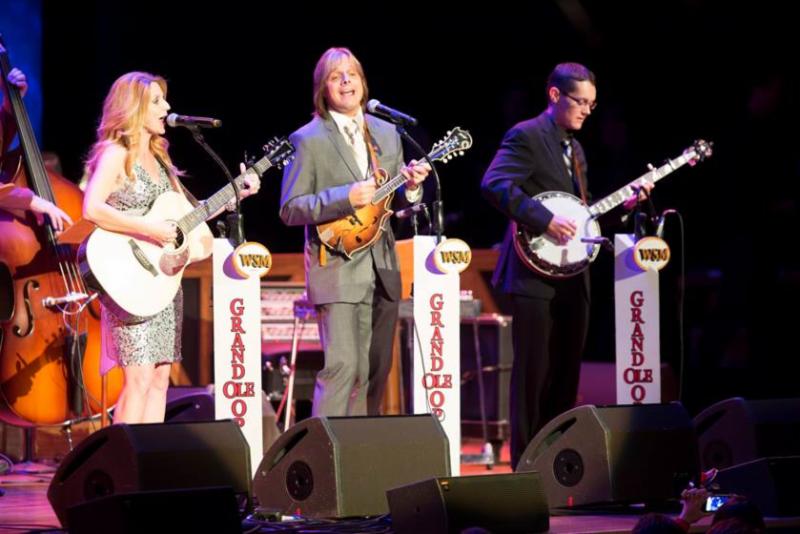 L-R: Elaine Roy, Lee Roy and Daniel Patrick
Photo Credit: Chris Hollo.
Vocalist/mandolinist brother Lee Roy echoed his sister's sentiments. "As Elaine said, this is a lifelong dream of ours," he beamed. "I was knee-high to a grasshopper, as they say, when I first wanted to play the Grand Ole Opry. We were raised in a little town in New Brunswick, Canada called Coal Branch, and going from Coal Branch to the Grand Ole Opry is a pretty amazing feat."
THE ROYS' first Opry appearance was a night to remember for the traditional but unique artists. They have become mainstays on the Bluegrass charts and on satellite radio, and known as Nashville's Bluegrass ambassadors to the world.
The excitement continues on November 22 when the duo will be performing with Jim Lauderdale at the sold-out "Playin' Possum! The Final NO Show" in Nashville, and 2014 will prove to be even bigger and better, as they are currently booking their tour.
Stay social with Lee and Elaine at:
Website: http://www.theroysonline.com
Facebook: https://www.facebook.com/theroysmusic
Twitter: https://twitter.com/theroysonline
Photo credit: Chris Hollo
# # #
MEDIA CONTACTS
PUBLICITY:
so much MOORE media
Martha E. Moore / 615-746-3994
MANAGEMENT:
Entertainment Evolution
Shelly Mullins / 615-889-6995
shelly@entertainmentevolution.net
FOR BOOKING INQUIRIES:
Moonstruck Management
Josh Trivett / 626-893-5216
The Agency Group Ltd
John Gimenez / 615-564-2580