Nashville, TN - Artists Kassie DePaiva, Zane Lewis and Ansel Brown lit up this year's Country Radio Seminar, giving numerous interviews, taking endless photos and making the rounds at hospitality suites and showcases around Music City.
<![if !vml]>
<![endif]>ABC daytime star and 5 Points Records' artist Kassie DePaiva (shown here with Suzanne Alexander of GAC Nights) discussed her current album, I WANT TO LOVE YOU, with radio and TV outlets during her two-day CRS stint. Featured radio coverage includes: Jones Radio, Premiere Radio, CMT Radio, Dial-Global, United Stations and Huntsman Entertainment's HitMakers. March television/online appearances include Inside Music Row, American Music Channel, BlueHighways TV, Country Music Facts & News, Cybercountry and YouTube.
<![if !vml]>
<![endif]>Zane Lewis started his week early with visits to the CMA and Country Weekly. His next three days were filled with interviews with CMT Radio, Your Country Review radio show, Cybercountry, Voice of Country, Digital Rodeo and EnterTEENment News - to name a few. Additional features promoting his ZANE LEWIS CD (due in stores March 25) will air this month on video and TV outlets: Cross Country Show, American Music Channel, Inside Music Row and BlueHighways TV. Lewis caught up with fellow Texan Jack Ingram after taping an interview for United Stations Radio Network.
<![if !vml]>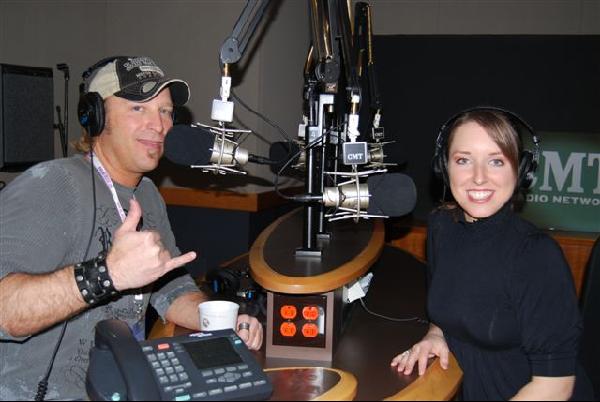 <![endif]>Ansel Brown (one of the CMA's Who New To Watch In 2008) hit town with IPAK Records' label head and NFL Pro Bowler Sean Gilbert in tow. Ansel made the most of the week, interviewing with Y'all Wire, Digital Rodeo, Travellin' TV, Voice of Country, Cross Country Show, American Music Channel, Men.com, Country Hound and CMR Nashville, among others. The Charlotte, North Carolina resident is laying the groundwork for his May album release, YOU'RE JUST SMOKE. Ansel is shown here with CMT Radio's Lindsey Roznovsky.
ALL PHOTOS Courtesy of so much MOORE media. Hi resolution jpegs available.