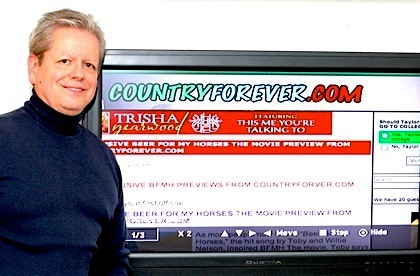 NEIL HAISLOP OFFICIALLY LAUNCHES COUNTRYFOREVER.COM AUGUST 1 TO CELEBRATE HIS 30 YEARS IN COUNTRY MUSIC


Nashville, TN (July 7, 2008) -Long time music journalist, broadcaster, author and producer of syndicated radio programs, Neil Haislop, will officially launch Countryforever.com August 1st, in celebration of three decades of reporting on the country music industry.

Countryforever.com - a unique "exclusive features, news and history" site for both country fans and industry professionals - is the perfect extension of what Haislop has devoted the last 30 years to."I've amassed a tremendous amount of knowledge from thousands of interviews with country's greatest, newest and fast-rising stars, as well as some of the most successful producers, songwriters and industry moguls of country music," explains the energetic music lover.

Haislop's country journalism career began when he left a job as on-air News Director for WXIL-FM in Parkersburg, WV, to move his young family to Los Angeles in 1978. That summer, he was hired as the chief interviewer and head writer of new content for the growing, L.A.-based, American Country Countdown with Bob Kingsley. It wasn't long before he became producer/writer of ACC Specials and co-creator/writer of the daily feature America's MusicMakers with Bob Kingsley.

Since starting his own company, Country Forever Productions, in 1995, Neil has co-produced over 560 hours of country superstar programs with Dick Clark's United Stations Radio Networks. In both 2007 and 2008, Haislop has produced 15 two-hour Country Giants specials (airing nationally every weekend from Memorial Day to Labor Day), the annual 3- hour Country Heroes (salute to the ordinary heroes of America) and Country Winners specials. He contributes the popular Country Q&A weekly column for GACtv.com, as well as provides daily country content to AllAccess.com. In addition, Haislop has authored the Billboard Book, Country Giants; field-reported (on camera) for "America's New Country" video show; served as contributing editor for Country Fever magazine; hosted the syndicated radio daily feature, "The Answerman Neil Haislop," and launched "Neil Haislop's Nashville IQ" prep service for radio and record industry professionals. For the past 16 years, Neil has also served on the Grammy Country Screening Committee.

"The only way I could've done all this was to keep a high profile in Nashville," says Haislop. "That was made possible by a lot of airline miles covering CRB and CMA events, supportive PR and promotion folks and the media corps that has welcomed me to Music City since my first visit in 1982."

To start getting the best in country music news today, log on to www.countryforever.com. You can reach Neil directly at 323-857-0760/615-653-4223 or neil@countryforever.com .