Becky Brown - Going Our Way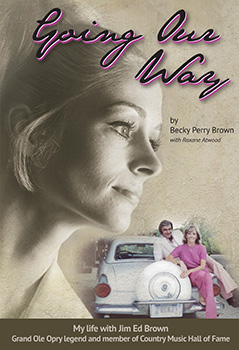 Growing up in Pine Bluff, Arkansas, Becky Perry never dreamed that crossing paths with Jim Ed Brown on so many occasions would ever lead to dating him much less eventually marrying him. He set his sights on her and literally swept her off my feet. He was charming and extremely romantic, and she had no defenses.
Becky was modeling, dancing, painting, and very involved in her church. She was enjoying making her own money and thought surely she could have a career in dance. Jim Ed was of the opinion that women did not work; they should stay home, take care of kids, clean the house, and cook great meals. Little did he know, he was marrying a mover and a shaker.
Looking from the outside in, one might say they had a charmed life, and they absolutely did. There were a few bumps in the road, but God's amazing grace got them through. They were married for 54 years, have two children and five grandchildren.
Becky Perry Brown has been a dancer, choreographer, artist, model, makeup artist, and taught dance for 46 years.
Now, with her book, Going Our Way, she invites the reader to share that world.